I'm missing the
Mermaid Parade
right now, as I sit typing here on a Saturday morning. That's one of my favorite yearly NYC events, a wonderfully messy celebration of Coney Island and all it contains--the boardwalk, mango on a stick, ocean waves and damn hot beaches.
Instead, I am still in Berkeley--a place that is pleasant, but separated a million times over from the wonders of New York City. I'm missing NYC more today because of a rough audience last night--they were with me for the whole show, but when I uttered the forbidden word "hispanics" they bristled and folded up. It's frustrating--just the word itself makes them so uncomfortable that they can't hear what I'm talking about, or they'd understand immediately the dark irony I am trying to express. Instead it's easier to shut down, at least for this batch. I felt this great disappointment in them, which I never realized is actually worse than when I'm disappointed in myself. Me, I can do something about: these people have to go home and pray no one ever challenges their assumptions again, or they'll have to get uptight over and over for the rest of time.
I caught
Jon Stewart
on Larry King last night. I know a couple of people who work for The Daily Show, and i have to say that while I like my own life and setting my own agendas, I can actually imagine working for that organization--they do such bang-up work, it'd be hard to say no.
Anyway, the show was mesmerizing--Stewart goes in and out of his persona, with a few moments of real candidness, but Larry King is such a space cadet that he mostly flips him ultradry, very funny retorts that King constantly doesn't know what to do with. The transcript is available for reading
here
--I'd rather link to some video, but all I can find is this weird set of
stills
. What is the point of that? If you don't have the bandwidth, don't host the clips, fine--but why do we need 100 still pictures of Jon Stewart talking to Larry King?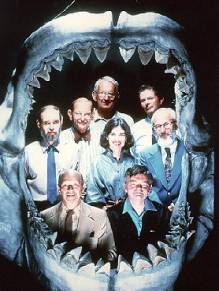 Really entertaining
piece
by Jesse Green on Nathan Lane and his work in the new production of Aristophane's THE FROGS. He's wearing many different hats for the production, which is how JM and I work, and it was a pleasure to read about someone else undergoing a similar kind of hell. It's also great to hear about someone else working on integrating an acting life with a writing one, even if his profile is miles above mine. Good stuff, and I hope it gets to run for a while so I can see it.
Also, great piece on
Kim Jong-Il's totally crazy food whims
--he has teams of lackeys and bootlickers roaming the world, seeking out tasty things that he would like to eat.
Kim insists that his rice be cooked over a wood fire using trees cut from Mt. Paektu, a legendary peak on the Chinese border, according to a memoir written by a nephew of Kim's first wife. He has his own private source of spring water. Female workers inspect each grain of rice to ensure that they meet the leader's standards. (The nephew, Lee Young Nam, who defected to South Korea in the 1980s, was assassinated by suspected North Korean agents in Seoul in 1997.)

Kim's refined palate is not merely a matter of idle gossip, but the subject of serious study by political psychologists trying to understand the North Korean leadership.

Jerrold M. Post, a psychiatrist who founded and was the longtime director of the CIA's Center for the Analysis of Personality and Political Behavior, says Kim's obsession with eating the best food comes from being the son of North Korean founder Kim Il Sung, revered by the propaganda machine as a god-like figure. Post diagnosed the younger Kim as a malign narcissist in large part based on information about his eating habits.

"This is how you prepare food and water for a god."
It's funny--Jean-Michele is always saying that before she serves me dinner on my solid gold serving dish.
I have a lot to do--we leave for the
Cape Cod Theatre Project
a week from tomorrow, and there's lots of business to get done in advance.